Coming Soon: Arts at the Armory in Somerville

Line-Up:
Jimmy Tingle (Comedian and MC)
Faces on Film
The Neighborhoods
Mission of Burma

Venue: Somerville Theatre

Jimmy Tingle:

Glen: Tingle, 53, a native of Cambridge, was comical. His comedic theme for the night was politics and he did not hesitate to show his support for Barack Obama. With that support came a general loathing towards Bush Jr. With that, he had some good knocks on Bush and Cheney. This was the first show that I've been to that featured a comedian so having Tingle was an added treat.

Chris: Jimmy Tingle provided some witty, observational humor ranging from knocks at President Bush to the value of Beer warning labels.

Faces on Film
Glen: Faces on Film, a former comedy troupe from Boston, was, if you ask me, awesome live. I did hear a little FoF prior to the show, but I wasn't so familiar that I instantly recognized any one particular song. When the first words ("your desperate children") came out of singer Mike Fiore's mouth, I instantly felt like I was listening to Connor Oberst. Fiore is a bit less emotional than Oberst, but his general folk vocal approach is enough to mention the similarity. Fiore was excellent sans his band (a few songs), but I thought the band added a nice element of instrumentation, warranting an almost im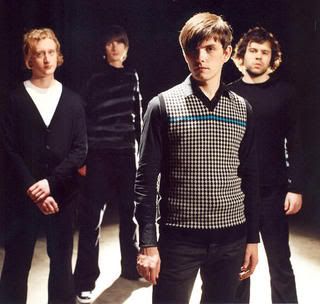 mediate comparison to Hamilton Leithauser and his Walkmen. My favorite song of the less than one hour set was "I'll Sleep to Protect," off of FoF's hit 2008 album The Troubles. A polished guitar riff, slick bass line, light drums, powerful keyboards, and Fiore's "oh oh oh oh oh oh" all coalesced into a memorable four minutes.

Chris: Faces On Film were pretty chill. They didn't seem too loud, nor too soft. Just right. The whole band was decent, but I actually prefered the lead singer/guitarist performing solo. I saw elemets of Bright Eyes and Radiohead here, and actually a would be polished Daniel Johnston, if you can fathom that. There was also a female singer, whom briefly appeared on the stage, and to be honest her role seemed "unnecssary,"seeing that 90% of the time she just stood there and looked she was sick, ready to collapse any second.

The Neighborhoods
Glen: The Neighborhoods were interesting. They played mainly guitar driven garage/hard rock. I could tell that they were signed to a major label. This wasn't a downfall or anything, but it was just that they were super clean. Almost like really really clean. Dave Minahan is a good singer. Basically, a lot of their songs are excellent Guitar Hero material. The crowd really seemed to appreciate the lengthy guitar solos and solid drum play.


Chris: It was a treat, to see The Neighborhoods follow FoF, mainly because of their stark contrast in performance and sound. While, FoF were chill and mellow, this band rocked out (they weren't wild per se, but certainly good time rocking and their energy transferred to the audience who responded positively. They reminded me of a poppier, safer version of The Replacements. I guess you could say they resembled The Rifles a bit. Most songs were straight up rockers (power pop/garage pop?), but the band broke this mold for a few songs, demonstrating their ability to throw in some slower, perhaps more mainstream, numbers in the mix. Overall, they were decent, about a B-.

Mission of Burma
Glen: Mission of Burma made me happy. I read on Wikipedia prior to the show that their live performances are hit or miss: either really really good or really really bad. Last night was the former. The second song played, "This Is Not A Photograph" featured the spot on duel vocals of Roger Miller and Clint Conley. Pitching in his voice from time to time was drill sargent drummer Peter Prescott. I give a lot of props to Prescott for setting the tone throughout the show
. I thought they could have turned Miller's microphone up a little higher, but that wasn't a big deal. Conley's "Academy Fight Song" also happened to come out real well. The effects pedals really added to the noise element of Burma's set -- a benchmark of their inspirational and, as Prescott said, therapeutic music. A few songs came off of the band's critically acclaimed reunion releases, OnoffOn (2004) and The Obliterati (2006). The final song of Burma's encore was a cover of The Stooge's "I Wanna Be Your Dog." In fact, Minahan came back on the stage to play guitar to close out a great night all in benefit of the arts.

Chris: Clearly, everyone came to see these guys, and certainly they got their money's worth. Burma played, a loud, noisy set filled with numerous fan favorites, including "This is Not a Photograph," "Academy," and many others. Crowd response was extremely positive, unsurprisingly, with fans singing along, head banging, and even one woman shaking and girating vigorously back and forth, catching much of the crowd's attention. It was also nice to hear all 3 members sing (or scream, esp. drummer Peter Prescott). The band concluded with a cover of the classic Stooges song, "I Wanna Be Your Dog," they were accompanied by the Neighborhoods' guitarist. It is clear, that Burma's legacy is alive and well and they are more popular and respected now than ever before. On one sad note, it is too bad they did not play their signature song, "That's When I Reach For My Revolver." Oh well. Overall, great show. B+