Not exactly large in number, the Radical Republican Movement at WHS is a minority group with a specific platform. They aren't troublemakers; they are just another political organization addressing a serious issue. They don't mind if you call them the anti-GSA (Gay-Straight Alliance) because they are exactly that. I recently got the opportunity to talk to a very concerned Radical Republican.

WÉ: So what is the problem?
RR: The "gay" people. People who practice and/or think that gay marriage should be legal or anything related to gay, [such as] gay pride day.
WÉ: What are the goals of WHS Radical Republicans?
RR: This movement is like setting fire to a field of plants that produce weed. When one starts the fire, the fire spreads quickly and rapidly. It consumes those who disagree. After all this is burned everyone relaxes, because this is what weed does to you. This will be our ultimate achievement. To agree on one thing and work to solve a problem.
WÉ: How do you respond to people who think you are discriminatory?
RR: I refer to the definition of marriage, and use religion as a weapon. Saying that, if any religious man happens to be a priest, one to approve of marriage, then he will not be for gay marriage, because his religion restricts it. To be gay is to be without religion. To be without religion is to be without hope.
WÉ: How can we end the "Who cares?" mentality of gay rights supporters?
RR: As a Rad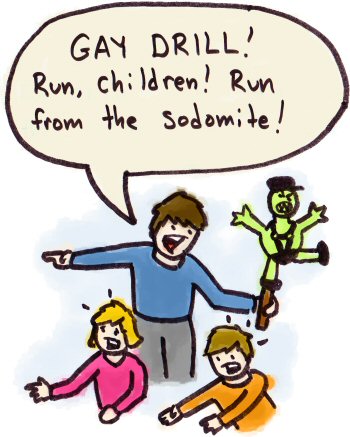 ical republican , and intelligent one for that fact, I feel that the only way to end this "who cares" mentality of supporters is to bombard them with facts. [Take] reproduction. You can't reproduce if you have two penises going at each other. You can't bring up a child without discrimination in school with two dads or two moms.
WÉ: Any final thoughts?
RR: Gay marriage will effect children's lives. The children are our future. If they condemn religion because they are gay, what hope will we have? Gay parents will eventually ruin the whole structure of religion and society.